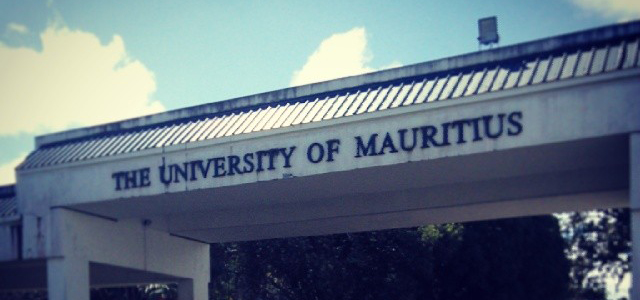 Well. Well. Well. I won't say it was dream since I was young but the day had to come where I had to join a university to deal with more hardcore things. Primary school, secondary school and finally, I landed at university in 2013! Lots of awesome things took place. Let me summarize you how was my first semester at university. P.S; hold tight!
To begin with, I got a seat at the University of Mauritius some months back in August after high school. So, I'm currently studying the BSc Information Systems course at the moment, a nice course, with lots of literature and nonsense? instead of technical things needed in the actual industry. Apart from this, as everyone said it before, that you are going to enjoy the days at university and what they said, truly turned to be a reality!
I have nice lecturers, some really boring people and others, some really nice people. Nothing more about this topic. You might know them better than me. *Zipped*
Firstly, I joined university on the 5th of August 2013 since then, I had to do lots of time management. Coping with works and dealing with the studies. One of my main issue was travelling 4 hours everyday, which was another huge pain but I managed to adapt myself . The trick was to wake up really early and catch the earliest bus as possible, whereby I managed to reach university in 1 hour from the place I lived. I do live far in the North of Mauritius, a village called 'Poudre d'Or Hamlet', you might have heard it somewhere I believe. Never mind.
Summer! Yes, we are all in the same oven. Feel the heat! You are surely going to miss it in the next winter. Going though Port Louis in the peak hours in the afternoon is purely a headache with the traffic jams. Pro tip, try leaving Réduit after 5 PM, less traffic around and faster buses.
Back to the main topic, Yes. I did many things. Let me enumerate some:
I bought a Nexus 7, 2nd generation
Went to several meetups of the MSCC, Mauritius Software Craftsmanship Community
The Code and Coffee sessions on Wednesdays
Joined the Linux User Group of Mauritius club
Skipped lots of classes
Held an event at Octave Wiehe Auditorium, the Linux Festival 2013
Met lots of people, both in the work industry and at university, software developers, engineers, sysadmins, hackers and developers
Became a Microsoft Student Partner
Attended the 15th anniversary of Microsoft cememony at Le Maritim hotel
Developing Windows apps for both Windows 8 and Windows Phones
South trip with classmates, La Prairie, Au Morne, Macondé
I guess that's all I have done till I joined university. I'll be writing the stuffs I've done in the coming days as posts.
Not to forget, I met one more person finally. Unexpectedly, yes. You know it. 🙂 You are reading it too. Hello dear!
For the time being, I'm in holidays till the 20th of January. You might want to have a look at what I have been doing at university, Instagram.
As usual, still breaking things and coding, working simultaneously while studying.
University of Mauritius is indeed a nice place to study, the atmosphere, the people around, Engineering tower, Phase 2, the cafeteria, ex-common', common', the gymnasium(I actually use this place to kill time between the lengthy breaks), the library still on the P4 PCs, the Bridge, Raise Plaza, the 8th floor of the engineering tower, the forest?
On the 4th of November, I celebrated my 19th birthday with some really nice people, had a surprise birthday!
On the other hand, the thing called 'Reports & assignments', the nightmare of every student and submitting your reports on the deadline, working till very late at night. The week where you see all lecturers bombarding you with tests and assignments together and you just smile at the test paper during the tests.
Concerning modules I registered to, the only module I loved till now, was my Application Development class where I dealt with applications developed, both console and GUI apps and my worst module is actually, my MATHS module. Sorry to say, it's a pain the ***.
Still, I have 3 more years to go, let's hope things stay smooth. I know it won't be easy, but still! let's face it! I might add up to this post soon.
If you are at university, you may find me with a nexus in the hand, sitting next to raise plaza most of the time or just wandering around in the library or just ping me on Twitter or see my checkins' Foursquare.
On top of that, feel free to drop in at Mugg & Bean, Bagatelle on Wednesdays, we usually have fun discussing about IT stuffs.
Last but not least, I know, I didn't keep my blog up-to-date throughout the last few months and many have been waiting for my articles, sorry for this lateness.
Happy ending….
Nirvan.